About Us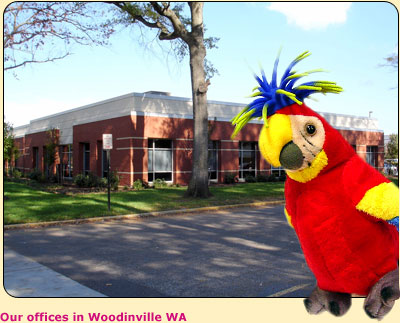 Welcome to Play Visions!
History
Play Visions, Inc. was founded in 1990 when CEO Mark Chernick teamed up with two high school classmates, Webb Nelson (President) and Jay Keron (CFO) to innovate the impulse novelty toy business. Together, the three of them began designing and developing their own renditions of basic toy concepts to add "that little something extra" and introduce a "new and improved" toy to the stale marketplace. These new adaptations were an instant "hit" and with the early success, Play Visions was able to expand quickly, moving from a North Seattle warehouse to building their very own facility in Woodinville, WA, which is the current home for our team.
Growth
In 2005 Play Visions acquired the company Cascade Toy, a well known brand of top quality plush toys. This acquisition gave Play Visions the opportunity to do what they do best, "innovate". Take a run of the mill plush item and add that "Play Visions twist" to make an item, unique, and one of a kind. Check out our Zibbies and Stretch Zoo lines for a perfect example…
In 2007, Play Visions acquired the company Club Earth, a world renowned brand of proprietary novelty toys. This line needed no introduction, as it was already a staple in the toy industry. Moreover, the nature and animal themed products have been a perfect fit for the Zoo, Aquarium, and Museum business where Club Earth has had a strong presence for many years. Play Visions will continue to develop the Club Earth line without straying too far from its original roots. Toys that promote today's environmentally conscious consumers, as well as impress and educate our next generation of children about the natural world around them. Going green has never been so much fun!
Product Safety Testing
Play Visions, Inc. tests all of its products in the manner acceptable to the CPSIA guidelines and updates certificates of compliance documents on a regular basis. You are able to locate these certificates from the items page of our website.

Future of Play Visions, Inc.
Through 27 years in the toy business, Play Visions has learned many valuable lessons in toy design, manufacturing, and wholesale distribution. We've had tremendous success, and we've had items that just didn't meet up to our high expectations. Regardless, we will continue to stray outside the lines of the traditional toy business by using creativity as our fuel to bring you the most innovative, unique toy designs not seen anywhere else in the impulse novelty world. Stay tuned, and stay in constant contact with this site to insure that you will be the first informed of the latest and greatest toys before they hit the retail shelves. "Innovation not Imitation"